2022 Improved Time Management Lab
This unique Conference features eight (8) Leadership Labs focused on creating a virtual space for Leaders at all levels (supervisors, managers, senior leaders and HR professionals) to learn, practice, and transfer management skills into effective leadership competencies.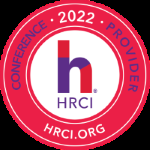 "The use of this official seal confirms that this Activity has met HR Certification Institute's® (HRCI®) criteria for recertification credit pre-approval."
Click Below to Purchase an All-Access Conference Pass into all eight (8) Lab Sessions plus Sustainability Sessions and Save!
2022 Virtual Leadership Development Conference All Access Pass
A la Carte Lab Sessions Available for $575.00 each

Session 2: "Eating, Sleeping, and Breathing Your Way to Improved Time Management" Lab
January 26, 2022


12:00 - 2:00 pm ET
(9:00 - 11:00 am PT)





Facilitator: Helene Segura

Time management fixer, Helene Segura, delivers thought-provoking, yet entertaining time management keynotes and seminars that give busy professionals the powerful strategies and tactics they need to slay wasted time.

By improving efficiency, she helps companies lower employee stress levels, decrease absenteeism, improve retention, and increase profits.

There are countless neuroscience, psychology and chrono biology studies that tell us the most efficient and effective ways to live and work, yet many of us don't implement the findings. Why is that?

It's easier to keep doing what's familiar, even when familiar isn't beneficial.
Scientific research is boring, so who wants to make time to dig through and understand the mumbo jumbo?
Hacks and tips are usually spread out in multiple places online, so it's difficult to cull these into one knowledge catalog that fits your specific needs.
Knowledge catalogs that exist in the form of a book can be difficult to digest if you already don't have enough time in your day to get everything else done.

Prepare to take these roadblocks and kick them to the curb!

The Eating, Sleeping, and Breathing Your Way to Improved Time Management Lab will help participants unpack the best practices related to sleep, breath, movement, eating, and planning tactics that will increase productivity levels.

By the end of this session, participants will create a realistic roadmap to follow in order to better manage time and energy.

Methodology: We couple context, capabilities, and coaching to create and develop transferable and actionable leadership competencies with the precision of management skills to create highly effective leaders.

Our interactive lab will include the following: Lecture, Case Studies, Scenarios, Small-Group Breakout Sessions, and Pre- and Post-Lab Activities, and a 1-hour Sustainability Follow-Up Session.

Click below to Purchase this Virtual Leadership Lab and Sustainability Session for only $575.00!
Who is ideal for joining our Leadership Labs?
| | | |
| --- | --- | --- |
| If you are a Leader looking for professional development for your Front Line Leaders and Supervisors*, OR | If you are a Front Line Leader or Supervisor looking to enhance your Professional Development to Lead in the new work environment. | If you are an HR Practitioner responsible for working or developing Leaders at all levels. |
*This lab is also available as a Retreat Event for an organizational team on-site or virtual.
Email kim.gray@dblatimore.com for more details.
Participants in the Virtual Lab walk away with the following:
Enhanced leadership capabilities focused on core leadership competencies

Learn practical leadership applications

Increased understanding and development of their unique leadership styles

Participate in 'real life' scenarios

Practice role plays through experiential learning
Each Participant will experience the following:
A Leadership Assessment before attending the virtual lab,

A one-on-one personal Assessment Debrief before attending the virtual lab,

A Two-hour Virtual Development Lab which includes:


A Small-Group Breakout Session and then,

A One-hour Virtual Sustainability Session February 23 at 10:00 am., plus


Access to our Leadership Assessment, Lab Recording and Assignments!
Take the First Step and Click Below to Purchase this Leadership Lab Today!
Registration Closes January 15.