Veracity Professional Mens Summit
DB Latimore Professional Services Group Presents:
"Navigating the Realms of Success"
June 13, 2019 | Dulles Hilton | 13869 Park Center Rd, Herndon, VA 20171, USA
Join us for the Veracity Professional Men's Summit where we will explore the realms of success - where Knowledge, Emotional Intelligence, Organizational Change and Leadership integrate with individual and organizational well-being. Our interactive platform will explore the challenges men face in the 21st century workplace, focusing on the paradigm shift to Authentic Leadership.
Attendees will explore:
Authentic Leadership
How to identify and manage the 5 universal emotions
Active Listening Skills (ALS)
The Code of Trust a five step process
Techniques for Achieving and Maintaining Well-being
The Importance of Work/Life Integration
Seating is limited, so don't delay.
(For groups of 5 or more, contact us at 703-260-8516)

Summit Agenda
7:30 - 8:30 Continental Breakfast
8:30 - 9:00 Dr. Dennis Humphrey, Morning Keynote Speaker and Emcee

9:00 - 10:45 Eugene Dilan - - Emotional Intelligence-- A Leader's Primer

By now most everyone has heard that Emotional Intelligence is the best predictor of leadership success, team effectiveness and organizational outcomes. However, this knowledge has yet to fully translate into visible shifts in leadership behavior. This 2.0 hour interactive workshop will focus on bridging the gap between knowledge and behavior. Leaders will learn how to better identify and regulate emotions in themselves and others. Specifically, they will learn how to identify and manage the 5 universal emotions and practice three distinct forms of empathy.
11:00 - 12:00 Rich Kay -- Who Shrank my Clothes? How Small Simple Changes can make a Big Difference to your Health and Wellness.
In this riveting presentation, Rich Kay inspires his audience to new heights of health and wellness. He describes how he personally triumphed over obesity and the related life threatening health problems he faced. Rich inspires as well as makes you laugh as he details specific actions you can make through Small Simple Changes to get healthier.
12:00 - 12:50 Buffet Lunch | Lunchtime Keynote Featuring Dewayne Hill -- The Magic of Impossible to Possible!- Making ideas appear and reappear into reality.
1:00 - 2:30 Stacey Jenkins -- Team Building -Understand and Improving Team Dynamics: Using Hostage/Crisis Negotiation Methods and Active Listening
This presentation will allow businesses to use the TEAM PROJECT MODEL to help their team members cooperate with each other, with the focus on utilizing distinctive intensities within individual elements among members of a team. By using ACTIVE LISTENING SKILLS (ALS), a method developed by the FBI, every team member will increase productivity regarding their specific missions, and when united, the team members will form successful finalization of their team-goal.
2:45 - 4:00 Robin Dreeke -- Organizational Change: Trust Leading through Change
The Code of Trust is a process that Robin calls, "The Elusive Obvious" because these are behaviors that we already do from time to time without thought. This program will highlight those behaviors, label them, and give them meaning so they can be utilized immediately.
The Code of Trust is a five step process for creating not just trust between people and organizations, but ultimately healthy relationships as well. Robin goes in depth with each of the five steps and uses real life examples from recruiting spies, to enhancing trust and healthy relationships in every aspect of life as a backdrop.
4:00 - 4:30 Daphne Latimore - The Integrated Professional
Work/Life balance is often perceived as a woman's issue, however in the 21st century workplace, men face similar challenges of the convergence of professional, personal and public responsibilities. In this segment, we will explore the characteristics of the Integrated Professional, focusing on the 5 techniques to facilitate work/life integration.
4:30 - 6:00 Ice Cream Networking Social
Seating is limited, so don't delay.
(For groups of 5 or more, contact us 703-260-8516)

---
Meet Your Emcee
Dennis Humphrey, PhD |
Dr. Dennis V. Humphrey is the founder and principal consultant of Point.Shift LLC, a training and behavioral development group located in Herndon, Virginia. Dennis is a graduate of Benedictine College where he received an MS in Organizational Development and a graduate of Capella University where he received a PhD in Industrial/Organizational Psychology.
During his career, Dr. Humphrey has specialized in areas focused on management, executive, and senior executive development. Over the course of his career, he has designed training and development programs, specialized assessment centers, talent management initiatives, and simulation systems for evaluation of program participants. Dr. Humphrey has provided learning expertise for public, private and governmental agencies as a Program Manager and as a senior organizational leader. Over the past 5 years, he has traveled across the United States as a Keynote and Motivational Speaker specifically addressing the psychology of change and the elimination of barriers to personal and professional growth.
After over 20+ years of industry service and 22 years of military service, Dr. Humphrey established Point.Shift as a specialized group tasked with using key psychological theories, principles, and proven tools to accelerate leadership capability and to identify critical areas of development for individual leadership and team level efficiencies. As the author of two books, "The WAYOUT" and '6-7-8', Dr. Humphrey has dedicated his professional life to making substantive changes in the way leadership training is delivered and how critical behavioral coaching can introspectively promote leadership potential and capability. Dr. Humphrey is certified as a Birkman Personality Assessment consultant, and an adjunct Professor of Psychology at the Chicago School of Professional Psychology.
Meet Your Guest Speakers
Eugene Dilan, PsyD, SPHR is the Founder and CEO of DILAN Consulting Group, a San Francisco based international consulting firm focused on shaping human behavior to help scale organizations by developing leaders and teams to create winning cultures.
Before devoting his work fulltime to DILAN, Eugene was a Senior Consultant for an international consulting firm that served Fortune 500 companies doing mission critical work in the aerospace, defense, IT and energy sectors. Prior to becoming a consultant, Eugene held several leadership positions at San Francisco based non-profits including; Peter Claver House, Westside Community Services, Instituto Familiar de la Raza and AGUILAS - El Ambiente, while also managing a clinical private practice.
Eugene has written for Forbes and is a regular contributor to the Forbes Coaching Council. He is the former Board President of the Northern California Human Resource Association (NCHRA), as well as a former member of the Division III board of the California Psychological Association. Eugene holds an HR certification (SPHR), is a member of the American Psychological Association and maintains his license as a clinical psychologist.
Eugene is also a sought after motivational and keynote speaker having given talks to a variety of associations, companies and non-profits across the United States. He is fully fluent in English and Spanish and partially fluent in German and Italian. Eugene is a natural connector, facilitator and storyteller.
Rich Kay originally hails from New York. He served in the U.S. Marines and later went on to obtain a commission in the U.S. Navy where he attained the rank of Lieutenant Commander. He worked for Perot Systems, a dot.com start-up, Small Government Contracting Companies, the U.S. Mint and Unisys.
As his career progressed, so did his waist size which ultimately exceeded his age once he passed age 45! Obese, over 100 pounds overweight and suffering from many health issues from a fatty liver, borderline diabetes, to high cholesterol to name a few, Rich had enough. He made a decision to beat the battle of the bulge. He started making Small Simple Changes and lost over 100 pounds and rid himself of these health issues.
Rich is the author of "Small Simple Changes to Weight Loss and Weight Management" and has brought his Small Simple Changes message of personal and organizational transformation to Fortune 500 Companies, Small Businesses and many non-profit organizations as well as radio, social media and newspaper interviews.
Rich is a certified Health Coach from the American Council of Exercise (ACE) and WellStart and an ACE Specialist in Fitness Nutrition and Behavior Change. He provides individual and group coaching as well as organizational consulting and speaking event services.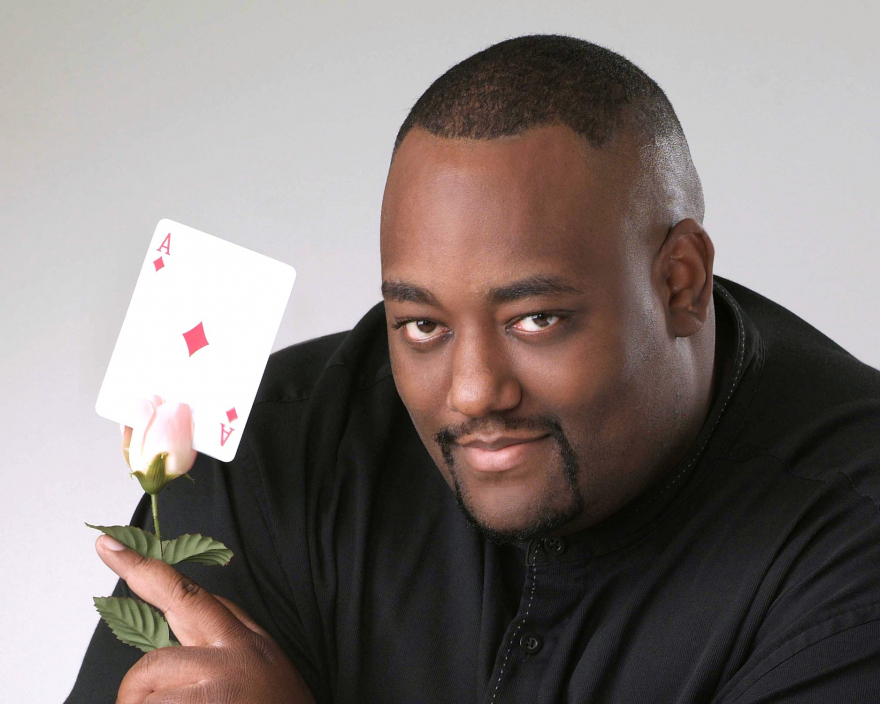 Dewayne Hill | Magician and Speaker
Speaker and Magician Dewayne Hill comes from Tampa, FL by way of Charleston, WV. He has been featured on America's Got Talent, The Travel Channel, and Food Network. He speaks and performs over 120 appearances per year from California to Maine and all points in between. He is currently shopping 3 TV series to major streaming services for distribution.
Stacey has more than twenty years of law enforcement and teaching experience, having worked as a Homicide Detective, Gang Unit Specialist Detective, Hostage Negotiator, and Professor in psychology and group dynamics. Coupled with his extensive experience, Stacey holds a Bachelor of Science degree in Criminology from Ball State University, Master's degree in Forensic Psychology from Walden University, and is currently a Ph.D. candidate in Forensic Psychology at Walden University.
As the founder of CruxConception, Stacey's programs include incorporating PSYCHOLOGY in addition to hostage NEGOTIATION methods, to achieve higher levels of LEADERSHIP, TEAM and GROUP EFFECTIVENESS. His RESEARCH and practice assists companies, organizations, and groups by merging psychology in consort with Active Listening Skills (ALS), which will result in an ACCELERATED-advance technique, devised to build CUSTOMER rapport as well as enhanced recruiting methods.
Robin is an expert trainer, project manager, author, and group facilitator with a substantial background in leadership, adult learning and facilitation, both within the US Government and with private sector organizations.

Robin is a 1992 graduate of the United States Naval Academy and former U. S. Marine Corps Officer. For the past 21 years, Robin has been in the FBI, formally serving as the head of the elite Behavioral Analysis Program of the FBI's Counterintelligence Division.

Robin has studied interpersonal relations and behavior for the past 30 years. Through his professional roles and his passionate interest in this field, he has developed his own unique interpersonal tools. His most recent books are The Code of Trust: An American Counterintelligence Experts Five Rules to Lead and Succeed and It's Not All about "Me": The Top Ten Techniques for Building Quick Rapport With Anyone, " a pocket manual for teaching you to break through walls and tear down the blockers people put up to building strong, unbreakable bonds.

Robin was the lead instructor at the FBI's Counterintelligence Training Center in all behavioral and interpersonal skills training. He was also an adjunct instructor for the FBI's National Academy in the area of publishing, interviewing, and public speaking. He is the co-developer and lead trainer in social engineering soft skills for Social-Engineering.com. Additionally, Robin routinely conducts workshops and seminars for government, military, and private-sector organizations.
Meet Your Facilitator
Daphne Latimore, HR Strategist, Executive and Leadership Coach | daphne.latimore@dblatimore.com
Daphne B. Latimore is the founder and Managing Partner of D.B. Latimore Professional Services Group, LLC a boutique firm specializing in Human Resource Management, Professional Coaching Services and Workforce Seminars.
Daphne has over 25 years of strategic and operational experience in both the private and public sectors. As a career HR Strategist, Executive and Leadership Coach, skilled Facilitator and Trainer, and HR consultant, Daphne specializes in establishing sustainable workforce productivity programs through the development of leaders at all levels.
Daphne's programs include individual performance coaching, group coaching, team facilitation and work shadowing. Daphne's business acumen has been credited for successfully transforming and aligning workforce productivity with corporate business imperatives. Daphne is certified to administer and train on personal assessment tools to include the Myers Briggs Type Inventory, LEA 360 and the DiSC profile assessment.
Daphne is passionate about advancing Human Resources as a profession and is committed to ensuring that "PEOPLE" are an organization's greatest resource. As a result of her commitment she developed the Productivity Powered by P.E.O.P.L.E. ® workforce productivity framework based on her years of experience working with leaders at all levels to improve the workforce productivity of their organization.